** DATE CHANGE!
 Our next
book
club
meeting is on Monday, November 11, at 7:30 p.m.  We'll be discussing
Jeeves in the Morning
by P.G. Wodehouse.  Laren will bring book suggestions.  Thank you, Laren!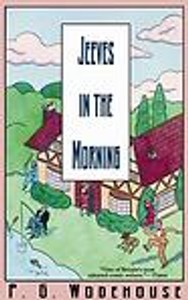 December's
book
will be
The Sweetness at the Bottom of the Pie
by Alan Bradley.  From
Booklist:
Canadian Alan Bradley's first full-length crime novel is delightful. Sweetness introduces a charming and engaging sleuth who is only 11 years old. Flavia is one of three precocious and extremely literate daughters being raised by English widower Colonel de Luce in 1950. Flavia's passion is chemistry (with a special interest in poisons). She is able to pursue her passion in the fully equipped Victorian laboratory in Buckshaw, the English mansion where the de Luce family lives. The story begins with a dead snipe (with a rare stamp embedded on its beak) found on the back doorstep. This is followed by a dead human body in the garden and, later, by a poisonous custard pie. Revelations about the mysterious past of Colonel de Luce complicate matters. Others supporting players include the housekeeper, Mrs. Mullet, and the gardener, Dogger, who suffers from shell shock. When Colonel de Luce is arrested for murder, it's up to Flavia to solve the mystery. Only those who dislike precocious young heroines with extraordinary vocabulary and audacious courage can fail to like this amazingly entertaining book.
--Judy Coon
I enjoyed our discussion of Soul of a People last night.  I went to check out the Library of Congress' website on the Writers' Project and was shut out by the shut down!  Looks like there is a lot of other neat stuff online though.  It's time to go home, so I'll leave for another time!
Read on, Amanda